By GILLIAN SLADE on March 20, 2020.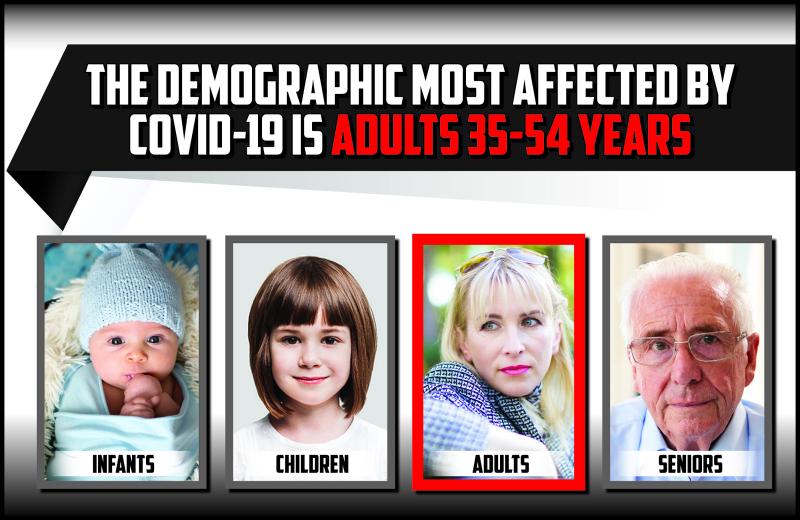 At this stage in Alberta's fight against the spread of COVID-19, the highest number of residents diagnosed with the virus are between the ages of 35 and 54, though with snowbirds and travellers returning, that trend could easily change.–NEWS GRAPHIC MICHELLE DOUVILLE
gslade@medicinehatnews.com@MHNGillianSlade
Alberta Health says the highest demographic of COVID-19 cases in Alberta are people between the ages of 35 and 54, and the majority are males.
Of the 119 cases across the province by Wednesday (there are now 146, with three in the South Zone and one fatality) 45 are in this age category and most are males.
Cases in the 55- to 64-year age group or 25-34 are neck and neck with about 15 cases each, and the majority are also males.
Those who are 65-79 years old come next, with an almost equal split between male and female.
There are about five cases in the 10 to 14-year age bracket and three between 15-19 years old. They are all males.
There are only a handful of cases that are between the ages of one to four and one is more than 80 years old.
On Wednesday evening Alberta Health revealed one of the two cases of COVID-19 in the South Zone is in Medicine Hat.
By far the highest number of cases in the province, 70 per cent or 83 cases, are in the Calgary zone.
Dr. Deena Hinshaw, Alberta's chief medical officer of health, has said this could possibly be related to the high number of international flights coming into Calgary. Most cases identified have been travel related.
Hinshaw suggests the age demographic and gender could be an indication of those who have been travelling recently. As snowbirds return from warmer climes we may see an older demographic being diagnosed.
The Edmonton zone has 23 per cent of the cases, the central and north zones each have three per cent followed by the south zone with two per cent.
Although the first case was identified at the end of January the numbers began to surge at the end of the first week in March with a big spike after March 15, according to Alberta Health.
Nearly 15,000 COVID-19 tests have been done in Alberta as follows: Calgary 5,868, Edmonton 4,843, central zone 1,415, north zone 1,215, south zone 687, and 449 have not been assigned to a zone.
You can look at all the latest data on Alberta Health website which is updated daily.
https://www.alberta.ca/coronavirus-info-for-albertans.aspx#toc-2
Leave a Reply
You must be logged in to post a comment.